Baby, it's below zero
Published in the Winter 2010 issue of the Montana Sporting Journal
By Joshua Bergan
Even the craziest anglers have no choice but to stay home on certain days. You simply cannot fly fish if it's below zero – in fact, below 20 degrees, it's gets tough. I encourage you to find out for yourself, but insta-perma-frozen fly lines, leaders, tippets, and flies make it tough, especially when casting to a 2-foot-wide path through the center of a river. Despite a year-round season, fly fishing cannot be done every day of Montana's calendar.
There are plenty of things that can be done within proximity to your furnace that can improve your catch rate or offer a reprieve from the doldrums.
• Learn to cast. Really. Learn the double-haul. It might require a warehouse to have casting room, but you can at least research it from the comfort of your rocker (Joan Wulff has an excellent instructional DVD viewable at midcurrent.com). An effective double haul can add necessary inches in crucial situations. Heck, if it's in the budget you might pick up a switch or spey rod and try it with both hands. Spey casting is becoming en vogue on rivers like the Flathead (and forks), Madison, Missouri and Yellowstone, particularly for big, autumn browns.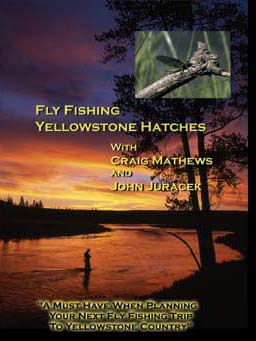 • Yellowstone Hatches anyone? You may have noticed a new trend over the past couple of years – the fish-porn films like the Trout Bum Diaries, Drift, Rise, The Hatch, Eastern Rises, Once in Blue Moon, Nervous Water, Tarpon (neither new, Montana, nor trout, but highly recommended), etcetera. These are well and good for entertainment, but I actually prefer the low-production-value, locally produced films that specifically address the fisheries with which we're familiar, like Craig Mathews and John Juracek's Fly Fishing Yellowstone's Hatches. It covers the significant hatches in Yellowstone Park, the Henry's Fork and Montana's rivers that are born in the park. I review it many times a year before breaching the banks on charted and uncharted rivers and hatches.
Both Mathews and streamer-ripper Kelly Galloup have their own DVD covering the Madison River, as well. Mathews covers it from January through December through every significant and insignificant hatch, and Galloup covers it from headwaters to Ennis Lake, wading and floating. These films lack the glitz and glamour, but are often more fun and informative because they cover water you will recognize. Other Montana-related films include Trout Grass, Successful Fly Fishing Strategies (with Gary Lafontaine and Dick Sharon), Rising from the Shadows: The Return of the Cutthroat Trout, and a number of Sporting Fly Productions movies covering specific rivers. Many of the aforementioned fish-porn films also include Montana, but are not specifically dedicated to it.
For a great selection of free-to-preview fly-fishing films from all genres, visit either midcurrent.com or drakemag.com. It might be possible to wait out an entire cold spell just by watching the videos available on these two sites.
• Study up! We are fortunate to participate in a sport that so easily lends itself to eloquence, and this is apparent in much of the literature. Some authors of note include Gary Lafontaine - even in his instructional guides he sneaks in fish tales, John Holt, who delights in telling succinct tales of glory and folly on both the well-known and unknown streams of Montana, and Thomas McGuane, whose stories are more adult in nature, less about the how-to-where-to, are closer relatives of classic literature than the aforementioned, and often set in Montana. Ted Leeson recently produced Inventing Montana, which features short stories set in the Madison Valley and has been reviewed well.
For the how-to where-to facts, there is no shortage of books (I'm partial to a certain series, but by all means, shop around). An annual zine called Tight Lines that gave a fly-fishing forecast for Montana is now available for free on Fly Rod and Reel's website. It's a great source for up-to-date fish counts, issues affecting local fisheries, and hot patterns, techniques and rivers.
But, as everyone knows, back issues of the MSJ are hands down the best sources for all things Montana fly fishing.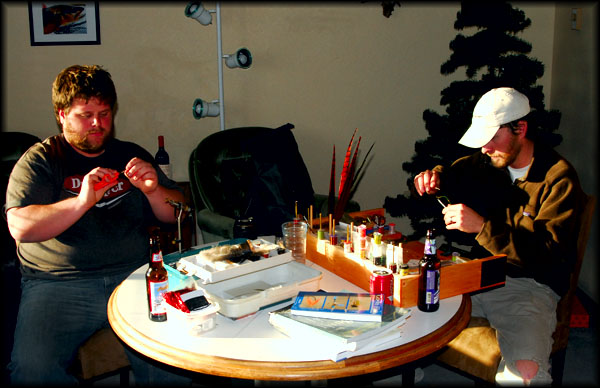 • Tie together. Start a fly-tying club. This is one of those things that is often talked about but rarely happens. Reconnect with old fishing partners over a beer and a vise, invite an acquaintance over to share stories and recipes, or call your regular fishing buddies and rip out some Princes, Hare's Ears, Girdle Bugs and Ray Charles. It's a great opportunity to plan future outings.
• Grass, graph' or glass - Build a rod. In my opinion, it's more difficult and tedious than tying flies, but it's rewarding and makes expensive rods affordable. Cabela's makes rod-building kits that include everything you'll need (including Sage or G.Loomis blanks) and your local fly shop should be able to fill in the 'blanks'. All the high-end rod manufacturers sell blanks. If you're feeling particularly saucy, you could even foray into bamboo or machine yourself a reel.
Or you could simply navigate to your "My Pictures" folder and reminisce about last summer's toads, dinks and skunks while Mother Nature does her worst. Keep warm!