Golden bones and water wolves
Published in the Sept./Oct. 2009 issue of the Montana Sporting Journal
By Joshua Bergan
Recent research indicates that wolves are to blame for reduced trout numbers in certain coldwater drainages in Montana.
But the fishermanís wolf and the rancherís wolf are different beasts entirely. The water wolf is a long, slender, green, spotted fish called the northern pike.
In Montana, they are native only to the few rivers in northwest Montana that drain into Hudson Bay, but they have been introduced across the state by both Montana Fish Wildlife and Parks and bucket biologists.
These predators have the ability to decimate a fishery like no other creature.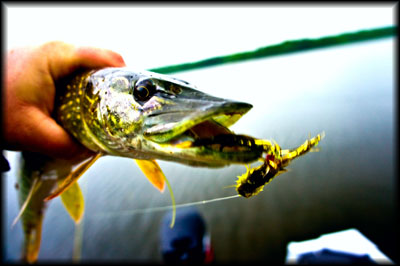 Other non-natives have been introduced, and have managed to (mostly) peacefully co-exist with native fish. Brook, brown and rainbow trout are introduced species in Montana (with the exception of redband rainbows in the Kootenai drainage) and while not many anglers lament their introduction, they have out-competed native cutthroat and arctic grayling over the past hundred years to the point where the two native species only remain in a miniscule percentage of their original ranges. But comparing brooks, browns and rainbows to pike is like comparing cottontail rabbits to grizzly bears.
And then thereís carp. For certain fly anglers, these Johnny-come-latelies have replaced trout as the preferred quarry.
In my day, fisheries biologists and concerned fishers alike warned against the dangers of carp infestation and they were a despised fish. If you caught one, you slammed it off the side of your boat or threw it high on the bank. If you released them, conventional wisdom preached that carp would take over the fishery.
But in Montana, carp have been around for about the same amount of time as browns and rainbows, and contrary to the advice of my youth, they have been as friendly of neighbors as the trout.
ďAlthough I am certain they have displaced trout from some habitat in the Missouri River during summer months (foam swirls near shore), my gut feeling is that they have not been a large factor for survival of other species in the Missouri and Jefferson,Ē fisheries biologist Ron Spoon said via e-mail. The daily limit is 100 carp, but Spoon says he and his co-workers would never advocate wanton waste.
Bozeman-based carp guide Dave McKee says he releases all the carp he and his clients land.
Carp can be found in the upper Missouri River, Canyon Ferry Reservoir, the Jefferson River, the Marias, the mainstem Flathead River and Flathead Lake, the lower Yellowstone River and many other lakes and rivers statewide. Theyíve even swim the heart of the Bighorn Riverís Yellowtail tailwater, where, by all accounts, the trout fishing is still good.
So weíve been fortunate to discover that not all invasives are necessarily detrimental. But just because not all are, doesnít mean some are not. Like northern pike.
Itís silly to debate the worthiness of pike as sport fish. They may not exactly sip trico dries, but they are hard-fighting, tail-dancing slabs that exhibit intelligence and selectivity. They are extremely predatory and can reach 30 pounds or more. They can be a streamer fishermanís dream come true, and a trout anglerís worst nightmare.
Thereís nothing peaceful about these piscivores. They prey on baitfish and game fish out of hunger, territorial defense, prey drive, boredom, absent mindedly or on a dare.
The Fish, Wildlife and Parks website listing on northern pike says: "Because of their voracious fish-eating habits they can literally eliminate their food supply in only a few years, leaving a population of terminally-stunted 'hammerhandles.' It is for this reason that widespread illegal pike introductions in western Montana have become a fishery manager's nightmare."
Pike have already been found in the Flathead River system (where studies show lowered trout numbers), lower Bitterroot River, and Clark Fork - all prized trout fisheries.
Until recently, southwestern Montana had avoided the scourge of the pike. But within the past couple of years, there have been verified accounts of northerns in the Jefferson River which is directly connected to the Big Hole, Beaverhead, Ruby, Gallatin, Madison and Missouri rivers, and is an underrated trout fishery itself. If pike thrive in the Jefferson, there is no reason they couldnít migrate into the roots and branches of its river system.
No one wants to see pike done away with entirely. Iím a native Minnesotan whose fervor for fishing was nurtured by pike and walleye fishing. They have a place, but itís not in Montanaís trout fisheries.
For those who yearn for a good day of pike fishing, Montana has excellent options: the Poplar River, Nelson Reservoir, Fort Peck Reservoir, Deadmanís Basin Reservoir (for tiger muskie), Seeley Lake, Salmon Lake, Tongue River Reservoir (where the 37.5-pound state record was taken), Canyon Ferry Lake, and numerous eastern Montana prairie streams, to mention but a few. Or you could head to one of Montanaís gems that has been invaded by pike and bring home dinner.