Forecasting Rises and Beguiling Gulpers
Also see the Flyfisher's Guide to Southwest Montana's Mountain Lakes, by Joshua Bergan
Published in the Oct./Dec. 2011 issue of the Montana Sporting Journal
By Joshua Bergan
Tiny halos radiated like echoes as they dotted Hebgen Lake's late-August surface.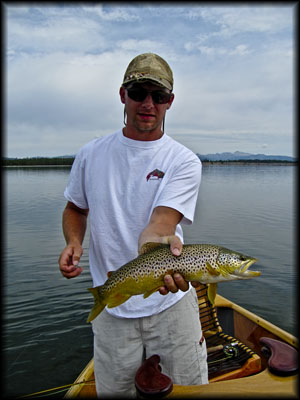 "Are those fish?" I asked as we pulled up along the Madison Arm. It was about 8 a.m and trout were, in fact, plucking tricos from the surface. We quickly realized that the gulping had already begun.
Gulpers are adfluvial trout that indiscriminately feast on adult insects – be they tricos, callibaetis or midges. They cruise in random directions, each one rising to eat in its own steady rhythm every few feet, imbibing mouthfuls of bugs. On a quiet day, you can hear the trout's rises – a distinct "gulp". They are challenging because of their erratic rises and spookability, and because there are so many naturals with which anglers compete.
The term "gulper" is said to have been first uttered at Hebgen Lake.
Serene as it sounds, things get hectic quick when the conditions are right.
At the peak of the activity that day – around 1 p.m – there were six or seven big heads popped out of our little lot on Hebgen's Madison Arm at any given split-second (see video at bottom). Callibaetis dotted the surface like stars in the Montana sky, their little wings flickering to create mini-wakes.
It was something.
Fishing gulpers is a unique experience, yet one that many anglers ignore. It is a steadfast occurrence; if it's late summer, the sun rises and it's sunny and calm, Hebgen's trout will gulp.
By the end of July, you can count on reliable trico hatches on Hebgen. They start at about 6 a.m., and fade out around 10 – just in time for the callibaetis to appear. Callibaetis stick around until 3 or 4, and it starts all over again promptly at 6 a.m. the following day.
Weather, however, is key to good gulper activity, according to West Yellowstone gulper guru Craig Mathews. Too much wind – fish won't rise. Too much rain – they won't even think about it. Low barometric pressure? They won't get excited. Sun and calm – you'll definitely experience them. Misty with high air pressure and a very slight chop – they might put dents in your hull. That said, it's as temperamental as anything in fly fishing.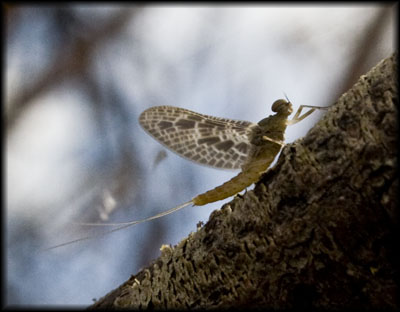 Most days, the fish start with an appetizer of trico duns, then move on to spinners, then callibaetis emergers, duns, and spinners, according to Mathews. If they're not interested in your dry fly, try smaller tippet or fishing an emerger. The climax of activity is often when the fish are eating callibaetis spinners.
Upon finding yourself in the midst of a frenzy, complacence is a mistake. The hardest part remains – predicting a trout's next movement.
The gulper does not swim as the crow flies. Each rise could be east, west, north or south of the last, and there is neither rhyme nor reason, at least that most anglers can discern. Study one for a while, and try to determine its next move. Sling your offering toward your best guess and hope for a nose.
The enigmatic nature of hungry trout is more apparent in gulpers than almost any other salmonid.
One tip I've heard is to note the position of the dorsal fin in relation to the head after a rise to determine where the trout is headed.
Another critical factor is your height, since trout dislike short anglers (kidding, obviously). A low profile will allow the fish to get closer without spooking, but likewise it will be harder for you to see the fish. And let's face it – float tubes aren't very comfortable, nor do they do your cast any favors. But if you can overcome, your odds of catching are improved. Fishing from a boat is more comfortable and you can see the fish easier, but they too can see you better. You get a wider berth of rising fish the taller you are. If you've got a solid double haul, you might be okay fishing from a boat.
Fishing from shore is possible too, especially for the morning trico hatch.
Late August into September tends to be the best time for activity, according to Mathews.
Gulpers gulp at many Montana lakes. Clark Canyon, Ennis Lake, Cliff and Wade lakes – likely anywhere there are trout, bugs and stillwater.
It's a good time to throw two dries (even if you normally don't) since it's so hard to determine where the next gulp will be. A dry dropper is also a good thought.
Al Troth (of Dillon, Montana, creator of the Elk Hair Caddis) designed the Gulper Special, which works for the duns, and Mathews' own Sparkle Dun works well for both dun and spinner stages. A Callibaetis Foam Spinner will also work, and a flashback Hare's Ear or Pheasant Tail under an indicator can play an emerger. Spring creek leaders are often needed.
Ultimately, paying your dues is the most prudent and promising path to hornswoggling a gulper.
No matter how the catching is, fishing gulpers is always impressive – something which you'll remember fondly. If you're one of the many who see a certain magic in fly fishing, you'll likely see lots in gulpers.