The Tropics of Montana
Published in the Flyfishing 2010 issue of the Montana Sporting Journal and
in the Flyfisher's Guide to Southwest Montana's Mountain Lakes, by Joshua Bergan
By Joshua Bergan
The biggest problem with fishing southwest Montana's Cliff and Wade lakes is passing up all the good water en route. From Bozeman, you have to pass the Gallatin, lower Madison, Ennis Lake, and drive along the upper Madison for miles. From West Yellowstone, you have to pass up fishing in Yellowstone or heading to Henry's Fork, past Hebgen Lake, Quake Lake, and the upper Madison. From the Dillon area, you have to turn down the Beaverhead, the Big Hole, the Ruby, and again, the upper Madison. The hardest part of each journey is just before the end when you cross over Three Dollar Bridge on the upper Madison – one of the best sections of one of the best trout rivers in the world. Suffice it to say, Cliff and Wade tend to get slightly overshadowed.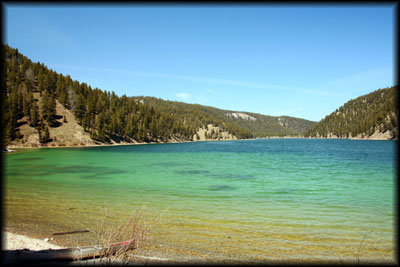 Both Cliff and Wade give up huge fish, but they're not the same fisheries they were 20 to 40 years ago. They might be better.
To give you an idea – many of the anglers who spend their summers at Henry's Lake in Idaho (that gives up some the biggest trout you'll ever see and that's not hyperbole) cross the state border to get warmed up on Cliff and Wade before Henry's opens – a decent compliment when you consider that they have so many productive options.
The two sit about three quarters of a mile apart in the Beaverhead National Forest northwest of Yellowstone National Park at about 6,300 feet. There are four forest service campgrounds, Wade Lake Resort and Wilderness Edge Retreat (on Cliff Lake) at which anglers can sleep. Both lakes are no wake zones, but are floatable with motorboats (at slow speeds), driftboats, canoes, kayaks, wind-propelled crafts and float tubes. There are nice boat ramps at both.
Both have a truly remarkable and gorgeous tropical quality to them, in that in the shallow areas glow a stunning green through the crystal clear, spring-fed water. Both fare excellent in water quality tests. They both get slight algae blooms in summer, but it's generally insignificant.
Both are surrounded by alpine forests upon steep hillsides protecting them from the howling winds from which many of Montana's fisheries suffer. That's not to say it never gets breezy, but at this elevation the weather is in a near-constant state of flux so even if it does, it doesn't last.
Both have naturally reproducing fish – not the standard for Montana's lakes.
These two lakes are off the beaten path, but make no mistake – Cliff and Wade get crowded during summer holiday weekends. Not everyone comes to fish, however; it's a great place to bring the family camping.
Cliff Lake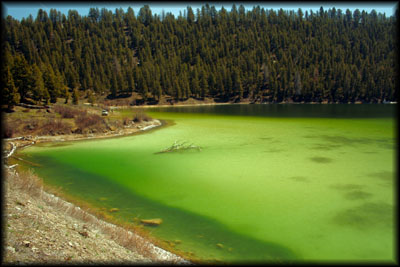 Cliff Lake sits to the south of Wade and stretches about 4 miles on a north-south tack. It's a slender stillwater that branches off into three bays on its south end (from west to east: Lost Mine Arm, Antelope Prong and Horn Creek Arm). The best fishing generally occurs at the south end of Lost Mine Arm, according to Dave Schmidt, owner of Wade Lake Resort. The problem with that is that it's kind of out of the question for float tubers and weak oarsmen because the boat launch is a few miles to the north. There is, however, a fee boat ramp at the Wilderness Edge Resort, which will put you close to the bays if you're willing to part with $5 (just check in at the resort office).
The rewards are often great in the south end – it's shallow enough to fish with fly tackle, which is not the case in many places at Cliff. There is also one section of narrows about half way down that is shallow enough for fly lines. This bit can fish particularly well in the evening with crayfish, according to John Duncan, proprietor of Wilderness Edge Resort.
Green leech patterns and Woolly Buggers are also effective, as are midge pupae and dries, Pheasant Tails (for the callibaetis), damselfly imitations, and attractors. A local favorite pattern is the Mormon Girl, a classic wet fly that resembles today's salmon and steelhead flies.
It holds a good population of rainbow trout that haven't been stocked since 1969. In fact, the former state record rainbow came from Cliff in 1952, tipping the scales at 20 pounds (that record was broken in 1997 at the Kootenai River tailwater). Unfortunately, most of today's fish have been stunted from parasites, and average 12 to 14 inches.
But rumors of huge cutthroat keep anglers interested.
In the early 1990s, citing the suffering rainbow trout, Fish Wildlife and Parks experimented with stocking Bonneville and Yellowstone cutthroats, according to FWP documents. The theory was that since it had such a bountiful food base (sculpins, chubs and suckers) and being a closed system (Cliff is fed by three streams at its prongs, then sinks into an aquifer that re-emerges as Wade Lake's spring, which sinks and re-emerges as Smith Lake about 1.5 miles north of Wade), it would be an ideal fit for the typically piscivorous trout. The cutthroats failed to reproduce, however, and are virtually non-existent in Cliff Lake today.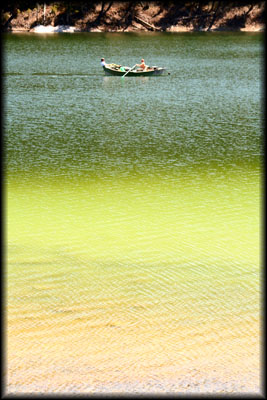 Virtually.
Desecendants of the stocked cutts still appear from time to time, as ornery old cuttbows.
"If you catch a larger fish, it's one of those," Duncan said. "Those things have been there for a long time." The biggest he's seen is about 26 inches.
Cliff is an extremely deep lake – it gets to 120 feet right off the boat launch. There are several shallow areas along the shoreline, but the biggest fish often hunker deep.
Schmidt relayed the story of a fellow who fishes Cliff with sinking fly line that runs through a downrigger contraption. When he marks fish on his boat's depth finder, he'll jerk the line off the ball and be at the perfect depth. Some might think he's cheating, but he is getting his flies deep, which is, after all, the goal of sinking line.
It's obvious where the shallow water is because the water is so clear. You'll see the white-sand bottom anywhere it's less than 20 feet. It drops off into a deep, dark blue in the depths.
You might encounter a few rising fish, but as a rule, Cliff Lake is a subsurface fishery.
Ice typically comes off in early May.
Be aware that there are several Cliff Lakes in Montana and even another one in Madison County.
Wade Lake
Cliff is a great lake, but Wade is the true gem of the two. It is where the monster browns were taken many years ago, and where throngs of nice trout are taken every day.

In 1966, the state-record 29-pound brown trout was taken from Wade (which you can see at a pharmacy in Three Forks). In the late 1970s, a 36-inch, 28.5-pound brown was also taken (which you can see at the Wade Lake Resort fly shop - shown at right). It makes the 24-inch 5-pound brown mounted next to it seem like a dink. There haven't been any beasts landed recently, but Wade has more abundant fish today.
Wade is only about 1.75 miles long, with a couple of bays where anglers can get out of the wind. There is a small section on the east end, where the spawning channel sits, that is closed to fishing (it's marked by buoys). It is spring fed so it remains temperate year round, including winter. The edges will freeze, but it will be fishable with flies in January. You'll have to ski or snowmobile in after about October.
These days, the brown and rainbow trout average 10 to 14 inches, with fish in the 19- and 20-inch range being common, according to Schmidt. That said, 40- and 50-fish days are not terribly hard to achieve if you know how to approach them.
Long, thin leaders are the rule as the water is so clear. Pheasant Tails, Woolly Buggers, leech patterns, crayfish patterns and standard weighted nymphs will do well, especially when fished over a weed bed.
Schmidt's go-to fly is anything in a leech.
"Pretty much my fly all year round is a black and purple leech on a sinking line," Schmidt said. Leeches in brown and green also work. Dropping them into the dark-blue deeper sections of water will tempt the bigger fish. A slow hand-twist retrieve works well.
It gets good hatches of midges, callibaetis, and damsels (although nothing too thick) and there is often a minimal amount of dry-fly opportunities. If you encounter rising fish, the thing not to do is to fish to specific rises. There is no better way to put 'em down, according to Schmidt. Cast to likely fish-holding areas if you insist on throwing dries.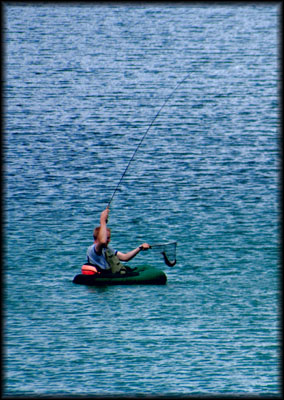 Schmidt said the big local secret used to be Wade's dragonfly hatch, but ever since crayfish have abounded, the dragonfly population has plummeted.
Today's big local "secret" is late summer's spruce moth hatch. This hatch has been taking the West by storm and Wade Lake is no exception. Since it's a relatively new hatch, oftentimes anglers won't know how to approach it.
"Everybody was coming in and saying, 'What fly works for that?'" Schmidt said.
You can find spruce moth flies at local fly shops, but if you don't have any, any caddis pattern should work.
Beetles often frequent Wade during terrestrial season. There are some scuds, but not like there are in many lakes.
Sight fishing to big trout is common. In fact, according to Schmidt, some patrons who guide in Florida in the off season bring their flats boats and sight fish to large trout sitting in less than a foot of water.
Just because today's fish aren't as monstrous as yesteryear's doesn't mean there are no pigs. Schmidt has a 10 weight that he sometimes fishes with saltwater flies around dusk.
The spawning channel was added in 1991 and since then, the trout have naturally reproduced.
Since browns tend to be mainstem spawners, many of the browns prefer not to use the spawning channel so lots of big fish populate the shallows in the fall. It's a great time to target a nice fish, and this can be done without ripping spawners off of their redds.
Said Schmidt, "It's a great lake and people that come to fish it get hooked pretty easily."
Directions
To get to Cliff and Wade lakes, take Highway 287 to the $3 Bridge Fishing Access Site on the Madison River (Wade Lake Road). Follow the road over the bridge for about 7 miles down a dusty gravel road. There comes a fork in the gravel road that says to go straight to get to the lakes (which is confusing because it's a fork). Take the right fork to get to Wade Lake and the north end of Cliff; take the left fork to get to Wilderness Edge Retreat and the boat ramp at the south end of Cliff.
Elk, Hidden, Goose and Otter Lakes
Just to the south of Cliff and Wade are Elk, Hidden, Goose and Otter lakes. All produce well in the summer, and are even further out of the way than Cliff and Wade. A trip through the Red Rock Lakes National Wildlife Refuge is the easiest route by car. You can also hike to them from Cliff Lake.
Elk Lake
Elk Lake is about 200 acres and is the first lake on the road out of Red Rocks NWR to the northeast. She's a slender beauty, and sees few anglers. Ice comes off about the same time Cliff and Wade open (usually late May) and it's open year round, although access is likely tough when there's snow.
It's stocked with catchable westslope cutthroats that usually run about 12 to 16 inches. There are also lake trout that run into the lower 20 inches, brook trout and various suckers and chubs.
Motorboats are available for rent for $67 per day ($41 per half day) from Elk Lake Resort. Row boats are available for $35 per day (guests have priority, but non-guests may rent boats – reservations are recommended).
Hidden Lake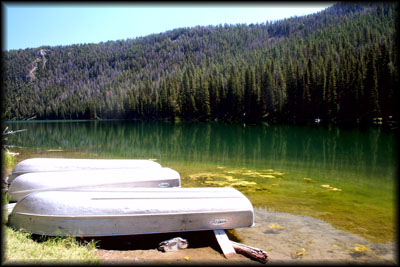 Hidden Lake is about 150 acres and is further down the road to Elk. It opens to fishing on June 15, and the callibaetis should show shortly thereafter. Like Elk, the fish aren't usually huge – they're rainbows here – but the scenery and lack of congestion is huge. And, every once in a while, a fish of a few pounds is reported.
Take the bumpy road heading northeast out of Red Rocks Refuge and drive to the end. From there, it's about a quarter-mile hike downhill to Hidden.
Fly fishing from shore is tough because the trees come right to the lake, but row boats are available for rent for $35 per day from Elk Lake Resort (guests have priority, but non-guests may rent boats – reservations are recommended).
Goose Lake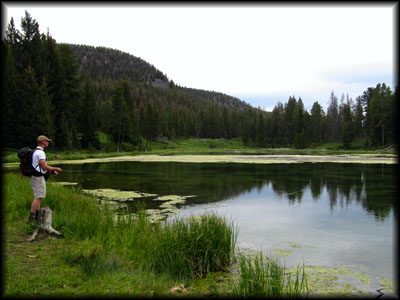 At a paltry 4 acres,Goose Lake is the proverbial small pond with big fish. It's located about 2.5 miles from the trailhead at Hidden Lake. It's a shallow, algae-ridden pond that holds rainbows from 12 to 20 inches that gather in the buckets when they're not cruising. The fish are spooky, but like to pluck food from the surface and will eat midge pupae. Patience is sometimes needed.
Goose gets the standard lake bugs and should be ice-free when it opens to fishing on June 15.
Otter Lake
With all due respect, according to Duncan, Otter Lake is the one with the big rainbows. "They're big, very shy, and very hard to catch, but you can see those big guys in there," Duncan said. It's half the size of Goose, but holds bigger rainbows that enjoy leeches.
It's about 0.3 mile beyond Goose on the trail from Hidden Lake. These lakes are also reachable from Cliff Lake via the same trail. It opens to fishing on June 15.
None of the lakes in this area are stocked, so plan on savvy fish.
Local Flavor
There are many local accommodations, including many in the town of West Yellowstone. Nearer the lakes are Wade Lake Resort (cabins range from $75 to $125, and boat rentals are available) which is right on the main drag along Wade Lake, well-known streamer fanatic Kelly Galloup's Slide Inn to the south on 287, and Howlin' Mad Moon Resort which has a full bar, grill and cabins on 287 to the north.
Another particularly interesting experience can be had at the Sun Ranch, northeast of Cliff and Wade on 287. The ranch takes pride in finding ways for their cattle to coexist with the Madison Valley's wolf population, and have a few ways to do so. Among them is a particularly innovative method, and it directly involves vacationers. Some campers are allowed to stay in canvas tents (that are by no means rustic) that are placed between the cattle and the mountains where the wolves roam. Since wolves will avoid human interaction, the cows don't get touched by the canids. It's a unique experience, but you will pay for it at this luxury resort.
A great fly shop just north on 287 is Beartooth Fly Fishing. It's owned by local legend Dan Delekta who has innovated many useful fly patterns. It's a neat shop run by great people.