Gem Hunting: Identifying Fishy Creeks
Published in the 2010 Wingshooting issue of the Montana Sporting Journal
By Joshua Bergan
This, from Bud Lilly in the spring 1979 issue of Fly Fisherman magazine: "Remember when you come West to try the water you've read about, don't limit yourself to that alone. Obtain some maps, ask some questions and explore the country a bit – there's plenty of it out here."
That was over three decades ago, and no one has forgotten about Montana. Fly fishing is booming, so Bud's advice still applies.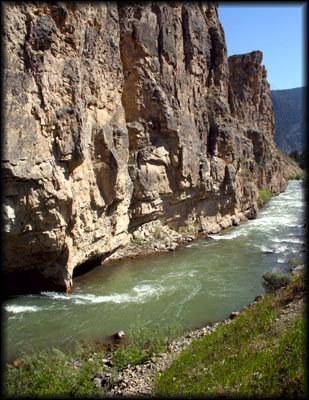 Unknown gems are rare wonders. It's about the rush you get when you first see the wake of an 18-inch cutthroat racing to your PMX. When that fat brown rolls on your Bugger when you expected an 8-inch brookie. Part of you wants to show it to the world, but a bigger, wiser part wants it all to yourself.
Ask someone to reveal one of their back-country secrets and you're more likely to catch a black eye than a big brown. You best go find your own.
For intrepid anglers, there are shortcuts to discovering your own gem.
• Grab a gazetteer and scan for thin blue lines of which you've never heard. If they're too big, they'll probably have been discovered so even if they are good, they'll be pressured. If they're too small, there's minimal potential for decent fish.
• Canyons and meadows are good. Using a topographic map, you can determine if your stream flows through either. Google Earth is also a great resource.
• If you have a hunch about a river, search for it on Fish Wildlife and Park's Montana Fisheries Information System (MFISH). It can tell you fish counts anywhere surveys have been done.
• It helps to determine what kind of stream you're dealing with – a freestone stream or a spring creek. The difference lies in the source of water – a freestone stream is the accumulation of mountain snowmelt and a spring creek boils from the earth from a natural aquifer. The two often require different approaches and different flies.
Some observation helps to determine what family of river you've found. Freestone streams flow downhill over a gradient, and often consist of pocket water and riffles and have bouldered streambeds. They suffer from run-off and blow outs. Spring Creeks flow over flat land, tend to have gin-clear, placid water, and have thick vegetation and quicksand-like silt on the riverbed. They get a lot of the same hatches, but spring creeks rarely get big stoneflies and tend to have many more scuds and potentially thicker hatches. Since they flow slower, they get many lake hatches, like damselflies, dragonflies and callibaetis.
It's not a perfect system though. Big Spring Creek, one of the state's biggest spring creeks, for example, rapidly gushes with many riffles. The East Gallatin River, a fine freestone, flows slow over a slight gradient.
If the stream passes through a dam, it becomes a tailwater. A surprising number of smaller cricks throughout Montana are tailwaters, and just like the big tailwaters, they can be excellent options.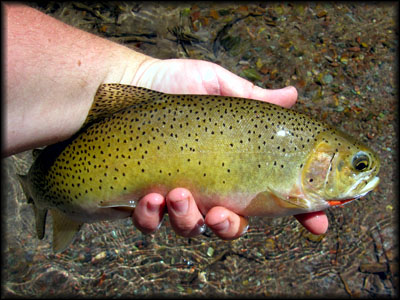 • Lakes offer the same opportunity to find an unknown fishery. Particularly in Montana, there are scads of mountain lakes that potentially hold heavy trout. Not that it's a surefire sign of a bust, but if there is a road that leads to a lake, it's likely crowded every weekend of the summer. In the valleys, you'd be hard pressed to find a reservoir without a road, so the same does not necessarily apply. There are many big-fish lowland lakes that are relatively unknown.
• A valuable resource to determine if there's any public land on a particular stream is the Montana cadastral mapping program (http://gis.mt.gov/). Once you zero in on your stream on the map, you can select which layers you want shown, including land ownership which covers private land, government-owned land (including which sector of government oversees it), and conservation easements (not all easements offer public access – an e-mail to the county coordinator might be required).
Most of these tributaries are subject to the general fishing season, meaning they are only open from the third Saturday in May through November 30.
Be careful with whom you share your secret – a little exploitation goes a long way. That said, it's nice to have a trustworthy buddy to share the experience.
Hopper season is, without question, the best time to prospect. Throwing big dries will quickly help you determine what you've got. The US Department of Agriculture is predicting that 2010 will host the biggest hopper hatch in 25 years so the time is right.
Put the magazine down, and go find that sexy, oxbowed trickle. A good secret is one of the most valuable assets an angler can have.