In the nick of time: Ice out on lakes
Also see the Flyfisher's Guide to Southwest Montana's Mountain Lakes, by Joshua Bergan
Published in the May/June 2009 issue of the Montana Sporting Journal
By Joshua Bergan
Have mercy, spring has sprung. Trees are budding and marmots are milling.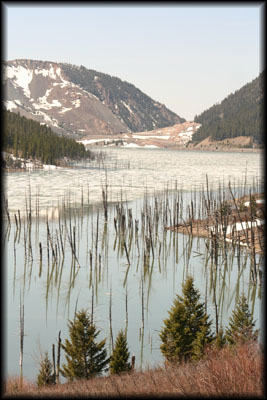 After a long hibernation, we've been graced with a few weeks of hatches and warming rivers. But just when your cast is almost back in regular-season form, the rivers invariably get overgrown and dirty, and fishing outings come to a screeching halt. But seemingly unbeknownst to most anglers, they don't have to.
The same phenomenon that causes the rivers to swell and muddy (warmer weather), frees up a whole different class of fishery: stillwaters. As the mountain snow melts and drains into the lowland rivers, the ice that seals the lakes and reservoirs also liquefies.
This is a fantastic time to fish stillwaters, and the closer you get to the exact moment when the ice breaks up, the better. Gary LaFontaine wrote in his book, "Fly Fishing the Mountain Lakes", about trying on several occasions to hit Ramshorn Lake in the Gallatin Range that fateful day when the ice cleared. I myself made three or four trips to Hebgen Lake last spring in attempts to fish it as near ice out as possible.
There are compelling reasons to be there as early as you can. These fish have not seen an insect imitation in a few months, so they won't be entirely hip to the ways of the sly fly fisherman. It's their first opportunity at adult insects in awhile, so they'll be eager for the variety. And the bottom line – lake fishing is a romp anytime of year so you might as well get after it.
These robust fish might be somewhat drowsy, but their hunger seems to offset any lack of energy. They'll be on the prowl. And if the ice has broken up, there will be midges.
And these aren't your river's midges. These are lake midges (chironomids), which can get as big as size 12, and average about size 14. Midge hatches following ice-out can be absolutely monumental – some of the thickest hatches of the year for any bug, on any water.
Fish will likely be cruising the shallows, foraging for the season's breakfast. But while the fish tend to be less savvy now than they are later in the season – sloppiness is not forgiven. The clear, potentially placid water allows fish a more-than-adequate inspection.
For a number of reasons, Montana's lakes don't get near the attention they deserve. The fact that it is hard to compete with our fabled rivers, coupled with the belief that fly fishing lakes isn't as exciting as drifting a fly in moving water, often leaves stillwaters as forgotten counterparts. And while fly fishing stillwaters doesn't generally incorporate what a lot of anglers enjoy about the sport – the drift and the mend – it has its own distinct appeal.
The most obvious draw is the larger-than-river-fish average size of the trout. Anglers flock to the Madison River in the fall to fish the big, running Hebgen Lake fish, but they could catch these same fish throughout the summer in the reservoir itself.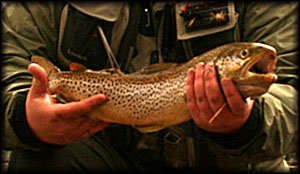 Another appeal is the vast number of new adventures that accompany lake fishing – there are literally thousands of lakes dotting the alpine slopes of Montana's mountain ranges. Many don't host lunkers, but most at least offer a smattering of brook or cutthroat trout. Even if the fishing isn't up to snuff, a hike to one of these stunning stillwaters is worth the effort for the scenery and fresh air alone. It's hard to have a bad day fishing an alpine lake.
Montana has bushels of top-flight stillwater fisheries, including but not limited to: the Anaconda Settling Ponds, Bighorn Lake, all of the lakes on the Blackfoot Indian reservation, Canyon Ferry Lake, Clark Canyon Reservoir, Cliff Lake, Dailey Lake, Ennis Lake, Flathead Lake, Georgetown Lake, Hauser Lake, Hebgen Lake, Holter Lake, Hyalite Reservoir, Quake Lake, Rat Lake, Wade Lake, and Willow Creek Reservoir (Harrison Lake). Moreover, a little research will reveal a number of private, pay-to-fish ponds on area ranches that often boast trophy stocked trout.
As one would think, the lower elevation lakes thaw first. Some lakes thaw as early as April, while others are only fishable in July, August, and September.
There is a learning curve – there are many different techniques and givens (as opposed to rivers) to understand. For instance, prime lies will be different on lakes since there is little or no current. Also, finding the right depth is paramount for success in lake fishing (because the fish could be at any depth), while river fishing generally involves two depths – the top and the bottom.
A few patterns that I've found effective at ice-out include any Klinkhammer-style midge emerger, Chan's Chironomid, the Woolly Bugger, and the Sheep Creek Special.
It is a mystery why so many fly fishermen ignore stillwaters, especially during snow-melt season. Innumerable adventures open when you avail yourself to the possibility of fishing Montana's lakes.